Hi Friends!
I hope you are all having a great week! NYC got slammed with snow last weekend—perfect application reading weather!! Last year I told you about the admissions counselors' favorite music to listen to while reading applications. Admittedly, I've been listening to a LOT of One Direction lately. Maybe it's because I'm reading files from the UK, or because their new album is my favorite (this is a judgement free zone, friends) but they've been at the top of my playlist this reading season. Harry, Niall, Liam, Louis—now that 1D is on hiatus, do you want to apply to NYU? Zayn, I guess you can apply too.
Now that you know what I've been listening to while I read applications, I want to walk you through how I read a file. NYU reviews applications holistically, meaning we consider all aspects of your application—from transcripts, to test scores, to letters of recommendation, all components of your application are super important to us! Below you'll find the order in which I review components of your application, and what we're looking for with each piece of your application.  The boys from 1D are going to help me too…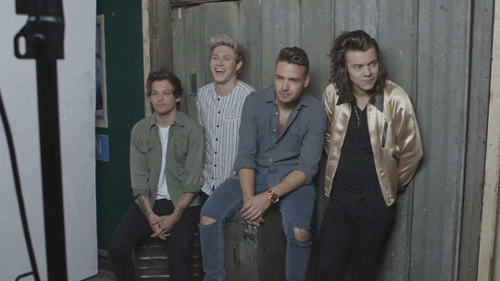 When I open up a file, the first thing I look at is your transcript. Academics are going to play a big part of what makes you competitive for admission to NYU. We want to know that you've challenged yourself within the context of your high school, and we want to know that you've prepared yourself for the rigorous academic environment at NYU. We learn about your curriculum through your school report,and your school profile, which your counselor fills out . The profile and school report tell us the type of courses you can take (AP/IB/Honors/Dual Enrollment courses), and provide the admissions committee with lots of information about your school, including rank and graduation rates. We want to see that you're challenging yourself within the context of your school, and that you're excelling within those challenges. We look at things like trends: maybe you had a rocky freshman year but now you're improving academically. While GPA is important, you're much more than that number–it's what's inside the transcript that counts!
After reviewing a transcript, I continue my academic review by taking your standardized test scores.  Did you know that NYU has a flexible testing policy? We want you to put your best foot forward and send us what you think is your strongest test score. SAT, ACT, Predicted A Levels, 3 SAT subject tests–the list goes on and on! While test scores aren't the driving factor in our admissions process, they are still an important component of your application, and hep us determine how you would perform in the classroom if admitted to NYU.
Next up, extra-curricular activities: How do you contribute to your school or community outside of the classroom?  The admissions committee wants to feel confident that you're going to take advantage of the 400+ clubs we have at NYU! Do you take photographs for your school newspaper, work a part time job after school, help tutor younger members of your community, or play a sport? Let us know!
After learning what you're involved in outside of the classroom, I like to learn a bit more about you through your personal statement.  Since we are unable to offer interviews to students applying for NYU's New York campus, the personal statement allows the admissions committee to get to know something about you that we're not going to learn from any other part of your application. I like to think of a student's essay as my interview—it's where I get to hear your voice and learn about your personality. This is my favorite part of a student's application –whether you're writing about a time you didn't perform well on a big test, or your favorite pair of socks! Things we like to see: a well polished essay that is free of typos and grammatical errors that tells us something about YOU!
Once I get a taste of your writing from the personal statement, I move on to the NYU specific questions. Why NYU? It feels like such an easy question to answer but because NYU has so much to offer, it's hard to cram in everything you love about NYU into a few paragraphs. This section is important to the admissions committee because it helps us see how you would be a good fit for NYU and the school or college to which you are applying. Why do you want to study Sports Management at the School of Professional Studies? How will you take advantage of the global network as an International Relations major at CAS? Have you done your NYU homework? While I think our campus locations in Abu Dhabi, Shanghai, and NYC are incredible, we want to see that you're interested in NYU beyond our locations in the great cities of the world!
I like to save the letters of recommendation for last because they help me round out my review of an application. Letters are a great way for the admissions committee to learn a bit more about your classroom performance, strengths, and weaknesses.  Your recommenders help us understand more about you as a student and an individual, and can speak to your academics, personal qualities, and college readiness. We require two letters of recommendation: one from a teacher in an academic core subject and one from your guidance or college counselor. We certainly welcome a third letter of recommendation but ask that students are respectful of our policy and submit no more than three. One year I saw 16 letters of recommendation in one application!
After a first read, your application may head to committee, where additional members of the admissions staff will weigh in on your application and make a final admissions decision. Disclaimer: not every counselor reads an application in this order–some may start with the essay or the extra curricular activities–this is just one counselor's perspective! Have any questions about how we review applications? Feel free to comment below or email us at admissions@nyu.edu.
Thanks for your help, 1D!